It wouldn't make sense for a business in this day and age to not be on social media. The birth and rise of sites like Facebook, Twitter, Pinterest, Google+, LinkedIn, and others brought about a shift in the way businesses market products to their target audience. And as a business that exists today, you too should take advantage of what social media can bring. You might say, "But we're just a shipping company." It doesn't matter if your business is predominantly about nails, mixing bowls, or paint, there's a lot you can share with your audience about those things, and there's no better way to do it than on social media sites.
Why Facebook "Custom Audiences" Campaign Is Essential
 First of all, what are Custom Audiences in Facebook? Basically, this allows advertisers to find their existing audience among those who are on Facebook. With Custom Audiences, you can create a customized list for any group of customers or prospective clients you would like to reach with targeted Facebook Ads. Let's put this in to an example so you can get a clearer picture.
Suppose you want to introduce your latest product to your audience, and you want to do it on Facebook, you would target your existing customer base to evaluate their interest. Well, you can upload your customer email list and provided that this is the email they also used to join Facebook, they will get targeted with your ad.
Another example for this is targeting those who haven't liked your Facebook Page. Suppose you collect email addresses for lead generation purposes. You can upload this list to Custom Audiences and granted that the same address was used for their Facebook account, your ad will definitely appear on their Facebook account.
Another good use for Custom Audiences is to drive newsletter signups. If you deliver newsletters on a regular basis to your customers, you can encourage those who haven't signed up yet with a targeted ad. All you have to do is upload their email addresses to Custom Audiences, and they will be served with ads that promote your newsletter.
Video Marketing Is Not an Option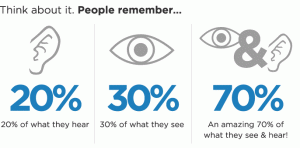 Before, persuasion came with the power of words. Then it turned into the power of images. Now, the power of video in enticing customers has become a big hit. Video is no longer a far-fetched idea when it comes to marketing, nor is it expensive. Thanks to the rise of mobile phone devices equipped with camera phones, as well as free services such as Vine and Instagram, video marketing is made a whole lot easier. Yes, videos on platforms such as Vine and Instagram only last for 6 and 15 seconds respectively, but there are a lot of creative things you can do within that timeframe.
For example, customers are interested in knowing what goes on behind your company. Six seconds is enough time to give them one mini tour of a specific area of your headquarters. Better yet, six seconds is about enough to send a holiday greeting participated by employees to all of your customers. Now, if you want longer videos, there's always YouTube, DailyMotion, and Vimeo to help you out. Longer videos are more useful for product demonstrations, interviews, and more.
Here are some interesting statistics about video marketing to show you the power of visuals in drawing an audience:
Video increases the level of understanding about your product or services by 74%.
75% of users visit the website of a marketer after viewing a video.
80% of users remember video ads they saw online.
64% of website visitors are more likely to purchase a product featured in an ad after watching a video.
Join the social media bandwagon today and trust only experienced professionals to manage your campaigns!