Remember back when you were yet a little kid in kindergarten and your teachers all tell you that you had to share with your friends and classmates? Well, what might have appeared as undue tyranny before is now proving to be a critical business principle widespread in today's global economy.
Today, companies – small, mid-sized and even big ones – are spreading out, and fast. It isn't anymore uncommon to see company personnel being sent out of a state or country. In addition, the trend of decentralizing businesses is showing no sign of lighting up, making it more important for businesses to look for ways on how their employees, vendors, customers and partners can share information securely from all over the world.
Here is where document sharing comes into play.
What is Document Sharing?
Document sharing is a type of file sharing. However, instead of music, games and the whatnots, what's being passed around are important documents, photos and even videos. In a document sharing environment, the main program is located on one single server. However, many users may access files on this server as though they were saved on their own PCs. This is most important in situations where disk spaces are limited.
Why is Document Sharing So Important?
ü  Reduces the chance of disseminating incorrect information
There are many benefits to employing a document sharing system. By centralizing files, there is lesser chance of having incorrect information disseminated throughout the workplace. When changes are made to shared files, other users will immediately be able to see the modifications, thus eliminating the predicament of employees working from erroneous information.
 ü  Security
Web-based document sharing also ensures that documents are stored securely, with access authority limited only to the people who are supposed to access them. This allows safe collaboration with clients, co-workers and even with family and friends.
ü  Reduces the need for IT services
Document Sharing reduces the need for the services of IT professionals when saving large files on the company servers. There are a lot of software programs for document sharing. Many have simple interfaces that make uploading files relatively easy. Typically, all it would take is e-mailing a link to co-workers or clients and they will already be able to download the document in a few moments.
 ü  Efficient and lessens company expenses
Document sharing is a very efficient means to send and receive files. With just a few mouse clicks, you can already access the documents essential to your work. And because everything will be digital, companies can even save on printing costs.
Private vs Public Sharing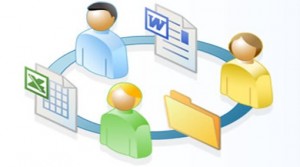 In setting up your document sharing, one important element to consider is the visibility of your files. Would you want your documents to be accessible just by anyone and everyone? Or do you want to restrict access to just a few people?
If public sharing is what you want, then set up a system that supports easy public sharing of files. This means not needing any special password, account or log in information to access the saved files.
On the other hand, if you want to keep your documents private or accessible by just a few number of people only, then opt for a file system that allows documents to be stashed securely in a private account. Access to these files usually require log in information.
There's More to Document Sharing
Document sharing is actually not limited to documents alone. You can also share or upload videos, photos, spreadsheets, presentations and a lot more. It makes group collaboration easy, thus making things more convenient for teams that do telecommunication or remote work.