Duplicate content has always been one of the many concerns content marketers and online publishers have with SEO. It is a problem because having more than a piece of the same content published on the internet will make it complicated for search engines to find out which versions are more relevant. Many believe that having duplicate content on your website is bad for their brand. This includes Google, which advised sites to consider carefully why they choose to publish duplicate content.
Below are 6 points on why duplicate content may hurt your brand.
1. Duplicate content affects site rankings on search engines.
Google perceives publishing duplicate content as an attempt to manipulate rankings and ultimately deceive users. As such, they have committed to making adjustments both in the ranking and the indexing of the involved sites. In effect, it's either the website's ranking will suffer, or the website itself will be removed completely from Google's index. In such case, the site will not anymore appear anywhere Google's search results.
2.   Duplicate content fuels negative user experience.
Well, who likes reading the same content over and over again right? Google's prime goal constitutes the provision of significant search results to its users. Websites publishing duplicate content, however, messes this up by inadvertently leading users to content that they may have already read. It's a waste of time and thus fuels negative user experience.
3.  Duplicate content can affect the credibility of a brand.
Websites are often seen as extensions of the company, the person, or the brand they have been put up for. They form part of the sources from which the public draw impressions about a particular company or business. Publishing duplicate content on your website may give out an impression that you are not too keen on quality at all and this will affect your brand's credibility.
4.  Duplicate content can cause site traffic to decrease.
Having several URLs hosting the same content will split the link equity among as many of these URLs. This results to dilution of the link popularity and subsequently of site traffic.
5.  Duplicate content makes it difficult for search engines to direct link metrics.
With duplicate content published across domains, search engines will have a hard time directing link metrics such as anchor texts, page rank and trust to single pages. It is highly recommended that websites consider optimization and publish new content to continuously attract visitors. As new visitors start to share links of the website to their social media or blogs, search engines will already be able to easily tell which website provides credible and valuable content to their respective readers.
6.  Duplicate content also makes it difficult for search engines to know which pages they should exclude in search results.
When you opt to have an existing blog content re-published on a submission site, you are already creating duplicate content which search engines will have to filter to find out where it has been originally sourced. They do this to determine which of the two published content should be ranked higher. Not only will the process entail extra effort, it's also really time-consuming.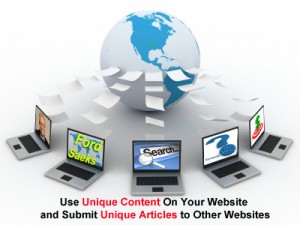 If you want to avoid publishing duplicate content, here are some essentials you should consider:
 Use permanent redirects.
Do not repeat text by using boilerplates.
Expand pages with similar content.
Link index pages in the same way.
Make sure to provide unique content.
Even if this is SEO we are talking about, still keep in mind that content is king. Write for humans and not for machines!